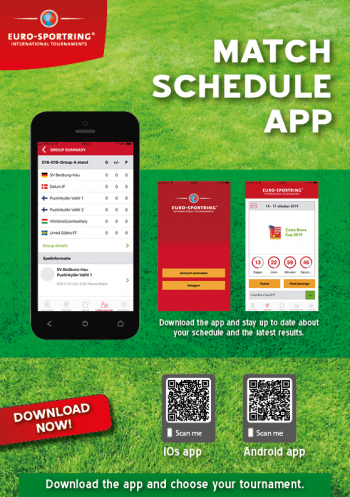 Euro-Sportring introduces: The Euro-Sportring Match Schedule App

Download the app and see your match schedule, actual results, standings and the latest information about your tournament. Download here.
Dear sport friends,
It will be great pleasure for us to welcome you in Prague on 24rd edition of Moldava Cup (31st of May - 1st of June 2019). 30 teams from 8 countries will take place in 2 different categories:
- M/7 - 6+1
- M35 - veterans over 35 (6+1)
The tournament is held in sport complex Štěrboholy which is located out of the city centre, but it does not mean you will miss any of the historical monuments of the beatiful city of Prague. Thanks to the great public transport system you can reach the city centre in a short time from every place in Prague.
Arrival of the teams is expected on Thursday since 10 AM, games will start on Friday morning. The highlight of the tournament will be Saturday afternoon, when the finals and prize giving ceremony will take place. We prepare cups for the best 3 teams of each category + fair play cup, but every team will receive a memorial plaque and especially gain a lot of great memories :-)
On behalf of Spolek Pro Podporu Sportu
Karel Bláha
general secretary of I.S.C. Sports